We all love books. They transport to a different place and my home is full of them. Every shelf, every crevice, every side table has books. Not all of them are read as I cannot remember where I've put half of them – I need a bookcase!
Stylish Stackable Bookcase
So when our design team showed me the Langli Bookshelf Unit I thought it was a great idea. These stackable shelves from Jasper & Tallow are a modular bookcase allowing you to buy independent units which can be stacked. No matter how many books you have, you can create large or small shelves as needed.
Feature a Stylish
Chamfer
edge
Flexible for your Needs
Some bookcases are too big for my space and are difficult to assemble, so finding shelves that can accommodate all of my books is always a challenge! With the Langli Bookshelf Units, I can create a bookcase to fit my space and my storage needs.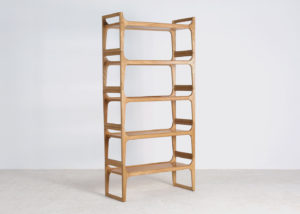 And it's not just books –  almost anything can be stored on these units: put them in your bedroom and use them for lamps, pictures and your alarm clock; put them in the dining room to store ornaments, tablecloths and books; put them in the living room for speakers, stereos or magazines. You could even use one as a coffee table, or a tray for breakfast in bed! It really is versatile and can be used in any room in your home to great effect.
The Langli Collection
There are more pieces in this innovative Scandi-inspired collection to match the bookcase; it also features an extending coffee table with internal storage, a TV cabinet and a lamp table with removable tray and internal storage.
For more information
Use the buttons below to find out more about the bookshelf unit or the whole Langli collection.